The glowing orange hills of Red Rock Canyon are visible in the distance from Las Vegas, stretching along the east-facing side of the Spring Mountains, on the western edge of the city. The scenery is intriguing from afar but is best appreciated from the numerous hiking trails that run through Red Rock Canyon National Conservation Area. Weaving their way through dramatic canyons, along ridges, and over the rolling red rock hills, these are some of the best hiking trails near Las Vegas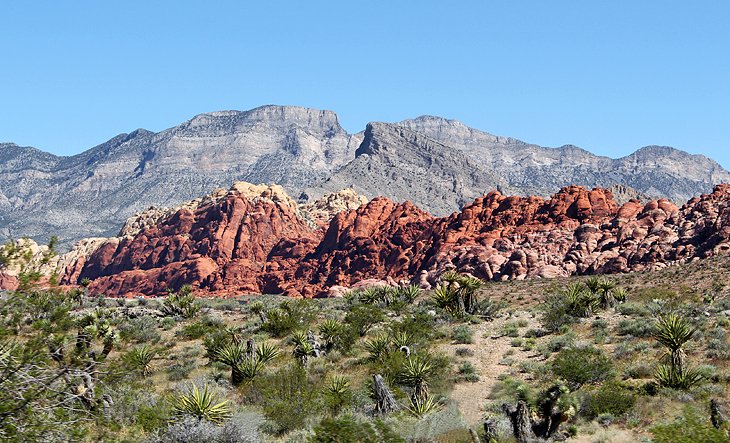 The hikes depart from trailheads off the 13-mile scenic loop drive, which winds through the park. Near the visitor center, at the start of the drive, the landscape and hikes are dominated by the signature red rocks. On the far side of the park, the scenery is quite different, with high cliff walls; lush canyons; and rock that reveals more yellow and gray colors, rather than reds. In the spring, this side of the park is also home to an array of wildflowers. Red Rock Canyon National Conservation Area is 30 minutes by car from the Las Vegas Strip and can be easily visited on a day trip from Las Vegas. National park passes are accepted at this park.
1. Calico Tank Trail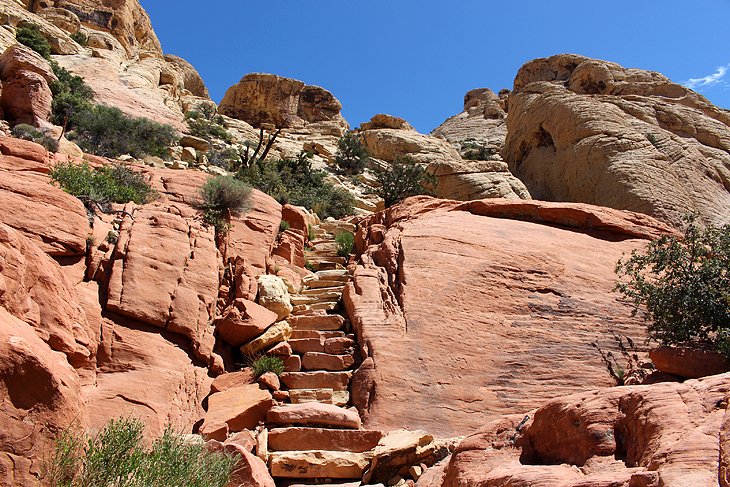 One of the most popular hikes in the park, Calico Tank takes you through a wash at the start and then up a canyon into spectacular red and yellow rock scenery. Hills and boulders line the trail as you ascend, but views out behind open up to the mountains. The summit comes into view ahead as you climb.
Although this is only a 2.5-mile return hike, it does have some tricky sections, and you will need to negotiate your way up over rock faces. At some points, you will be using your hands and feet to climb. These sections are short-lived and much of the 400-foot elevation gain is achieved by walking up crudely constructed stone stairs. The "tank" at the far end of the hike is a natural water catchment area that sometimes has significant water in it but more often has little to no water. Calico Tank is an in-and-out hike, so you will leave on the same route you arrived on. Parking for this hike is at the Sandstone Quarry.