3. Lost Canyon – Children's Discovery Trail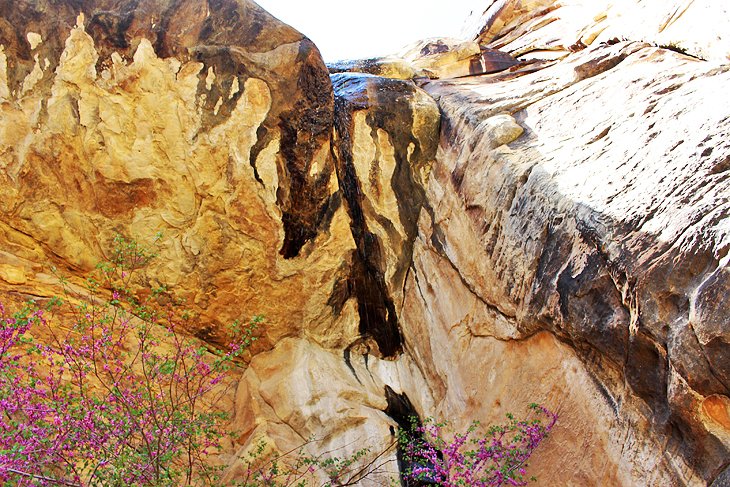 Although this trail is labeled the Children's Discovery Trail, it's a wonderful little hike of moderate difficulty, not an easy trail created with toddlers in mind. The trail is narrow, with trees; stone stairs; rock-covered natural tunnels; petroglyphs; a boardwalk; and depending on the season and rains, a waterfall. This is an enjoyable trail for everyone, and it delivers plenty of diversity in a very short distance. This is a .75-mile hike with 200 feet of elevation gain. It's short enough that it's not overwhelming and has no scrambling or difficult areas but still offers plenty of variety. The trail is quite narrow at points, with overhanging trees offering shade. In spring, the trees along the dry creek bed bloom in white and purple shades.
The trail can be slightly confusing near the start because the signage is awkward, with several trails mentioned at the parking area. For the Lost Canyon – Children's Discovery Trail, head to the right of the parking area along a wide trail bordered by rocks. When you come to the dry creek, walk straight across it, not further up the creek. From here, the trail leads up past boulders and rock walls with a couple of petroglyphs, then turns right and passes through a rock-covered archway, and eventually opens up to a small clearing at the base of the waterfalls. From here, head back through the arch and continue straight, returning to the parking lot. If you are not interested in the petroglyphs and want a shorter hike, head straight out from the parking lot on the trail marked "Lost Canyon Trail" and this will take you directly to the waterfalls.